Who doesn't know the famous story of David and Goliath? Well, this story has been recreated by the Bible App for Kids to bless children around the world. This app uses interactive features, rich visuals, and lively narration to make this story jump to life.
In this blog post, we have highlighted the key lessons that your child will learn from reading this interactive story on the Bible App for Kids. Let's take a look:
Story: Stones, Slings, and Giant Things

Theme: David and Goliath
Scripture: 1 Samuel 16-17
Valuable lessons for your child:
Here are the top lessons that your little one will learn from Stones, Slings, and Giant Things:
The opening scene of this story will show your child how God asked Samuel to find a new king for Israel to replace the disobedient King Saul. This will help your child realise that

God opposes the disobedient

.
Your child will see Samuel shake his head in disapproval as the elder sons of Jesse try to impress him with their antics and looks. This scene will show your child that

God does not care for looks

at all.
Your kid will further learn that God selected David as Israel's next king because He saw the good in David's heart and knew that he loved Him. Your child will thus learn that

God is only impressed by what is in our hearts

.
As the story progresses, your child will see how David was not afraid to take up Goliath on his challenge. He or she will hear David speak with confidence and see him accept Goliath's challenge, while the others tremble in fear. This will encourage your child to have the same

unwavering faith in God

that David had.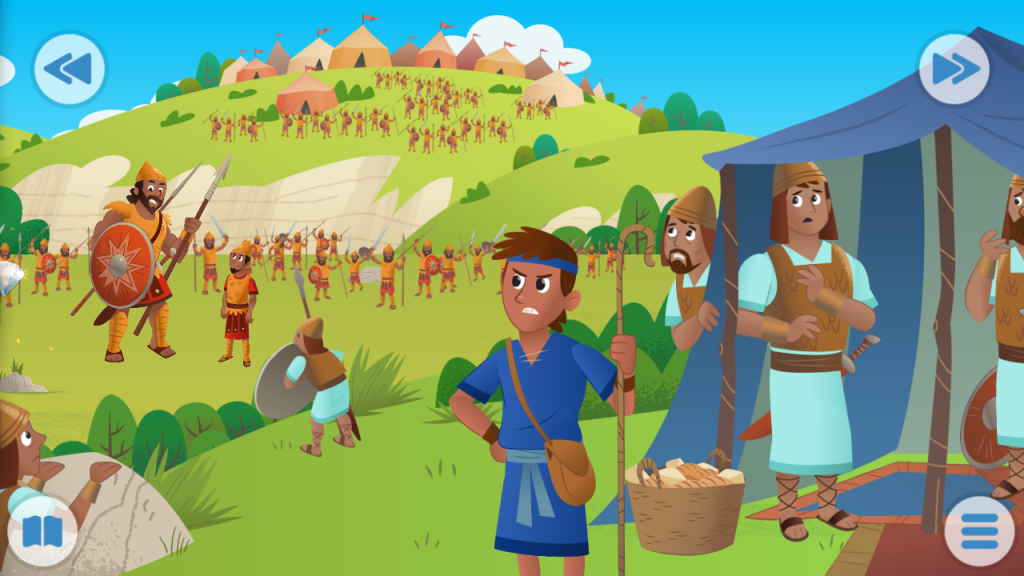 Your child will also watch and hear Goliath taunt David. However, he or she will learn that Goliath's talk did not shake David's confidence in God. This will help your child learn that

God is always with him or her

,

even in the toughest situations.
David's act of courage will surely have a lasting impact on your kid. He or she will be

inspired to stand up for what's right

. In fact, the app's touch-screen animations will allow your child to help David swing his sling at Goliath!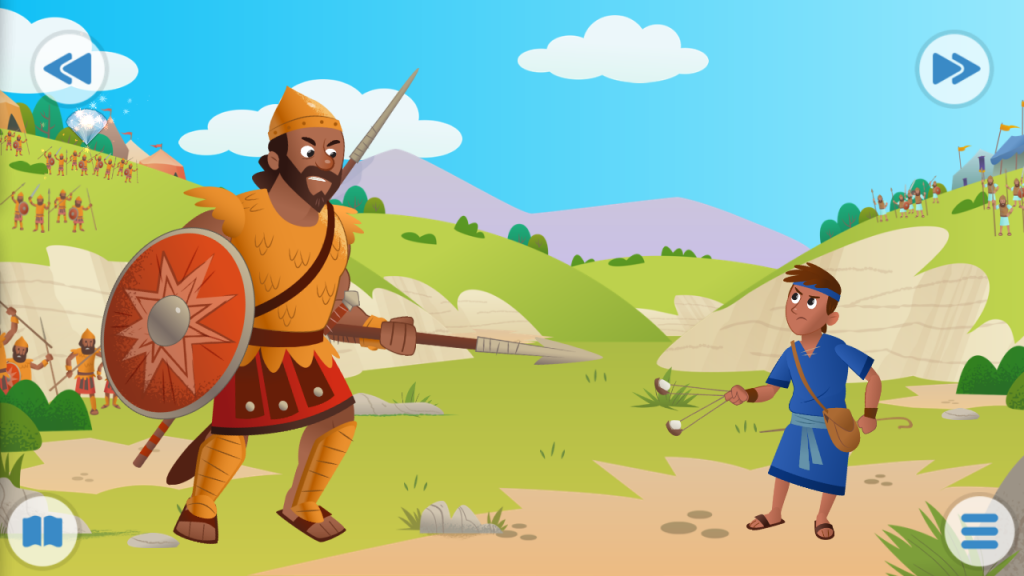 The app uses different voice styles for David, Goliath, Jesse and his sons to help your child identify

the different ways people express their emotions

.
Your little one will also be prompted to

memorise the valuable lessons

that he or she learns by answering questions in the different sections of the story.
Additional questions for afterwards:
Once your child has gone through this story, here are a few questions that you can encourage him or her to answer:
How can you get your heart to be one that God loves?


What does God care more about? Is it your outward appearance or your heart? 

Who makes you brave?

Who goes with you wherever you go?

How can you live courageously for God in your life?
And finally, here's an easy Bible verse for your child to memorise:
"Men and women look at the face but God looks into the heart." 1 Samuel 16:7b (The Message)
Wouldn't you want your child to be inspired by David?
In fact, your kid can meet many more Bible heroes, including Moses, Daniel, Elijah, and Paul, and travel alongside them in this app. Isn't that a great way to introduce your child to
God's word?
So, download this app and open up a world of Bible heroes and adventures for your kid! Click on the button below and get this FREE app today!