How can you teach your child about God's unconditional love in a powerful and unforgettable way? The Bible App for Kids might just be what you need to introduce your kid to the key biblical concept of God's great love for us.
For this purpose, let's consider the familiar story of the prodigal son. The Bible App for Kids has recreated this story in a creative and interactive manner to help your child understand the depths of God's unconditional love for us, His children. Let's dig a little deeper to see what valuable lessons this story has in store for your child.
Story: Coming Home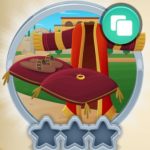 Theme: A father and his two sons
Scripture: Luke 15:1-3, 11-32
The parable of the prodigal son is a well-known story of a disobedient son, a forgiving father, and a self-righteous brother. In the next few sections we will look at the different ways in which this story will engage your kid and teach him or her valuable lessons:
Watch, listen, and tap:
The Bible App for Kids engages sound, sight, and touch to weave a delightful adventure for children. In the story Coming Home, this app uses touch-screen animations, rich visuals, and sound effects that will captivate your little one, while teaching him or her valuable life lessons. Here's what your child will learn from watching, listening to, and interacting with this story:
This story will clearly show your child that

nothing good can come out of being greedy

. Your child will realise that money and things don't last forever when he or she sees the prodigal son in a poor, lonely, and sad state.
Your child will also see the younger son humbly admit his mistake and ask for his father's forgiveness. This will encourage your son or daughter to

admit and apologise for his or her wrongdoings

.
When your kid sees the father run to embrace his disobedient son, he or she will learn that

God forgives His children when they are sorry

for their bad behaviour.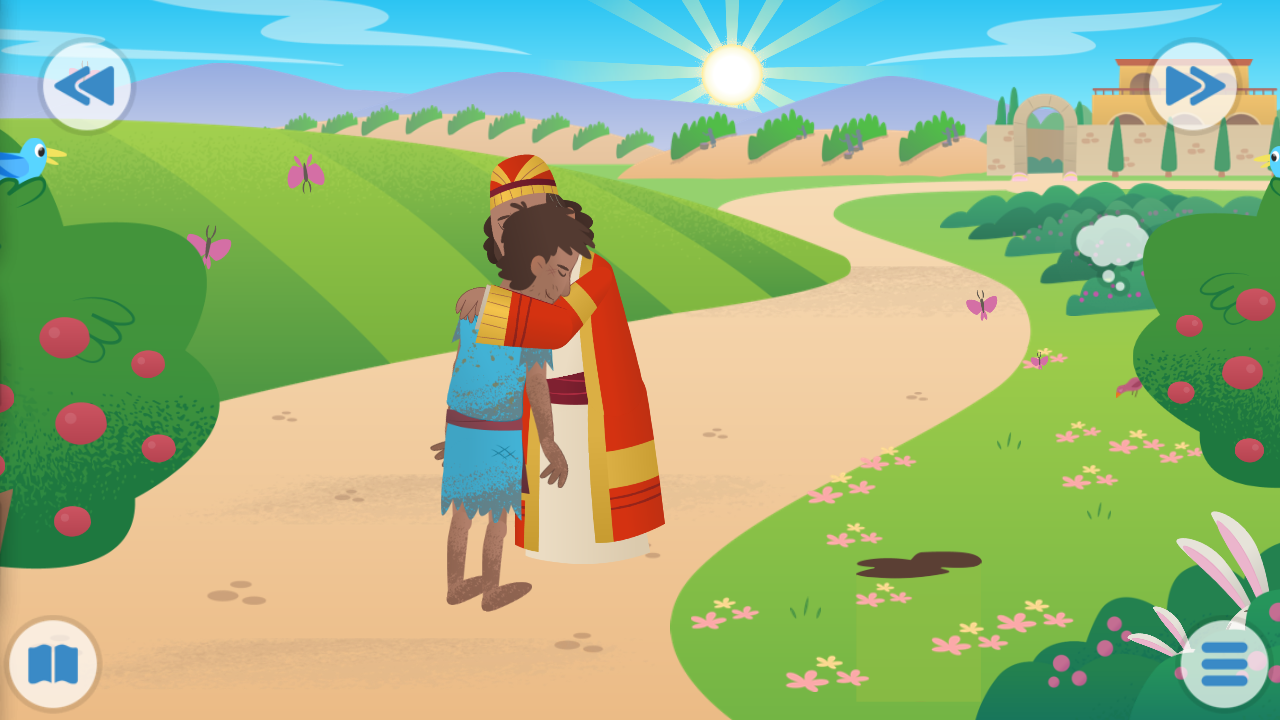 Your child can tap the screen and watch the father jump with joy when he sees his son coming home. This will show your child that

family is important

.
By watching the father celebrate his son's return, your child will understand how

God rejoices when we turn back and return to Him

.
This story will also help your child

associate expressions with corresponding emotions

. For example, your child will see the younger son sigh in despair, which will help him or her relate that expression to sadness. On the other hand, the angry voice and gestures of the elder brother will show your child what envy looks like.
Your child can also tap the screen to

hear different animal sounds

. A touch on the screen will make the dogs bark,

roosters cock-a-doodle-do, and pigs grunt!
Ask and learn:
Once your child has gone through the story, encourage him or her to answer a few questions to really soak in the lessons learnt. You can start with these five questions:
1. How did the younger son dishonour his father?
2. Was the father angry when the younger son returned home?
3. What does the father's behaviour in this story tell us about God?
4. What does God do when we are sorry for our bad behaviour?
5. Why was the elder brother unhappy when his younger brother came home?
And finally, here's an easy memory verse for your little one:
"He was lost and is found." – Luke 15:32b (NIV)
Isn't this interactive story a fantastic way for your child to learn about God's love and forgiveness?
The Bible App for Kids has over 40 engaging Bible stories for your child to explore. Its interactive features and animated content will certainly make your child fall in love with God's word. So, what are you waiting for? Click on the button below and download this FREE interactive app today!