Courage is an important value that all parents want to teach their children. Well, the Bible is full of stories of courage and bravery, isn't it? Right from Daniel standing his ground to David facing the giant – these stories offer important lessons in overcoming fear and making the right choices. So, what better way to teach your child about fighting fear than from the Bible?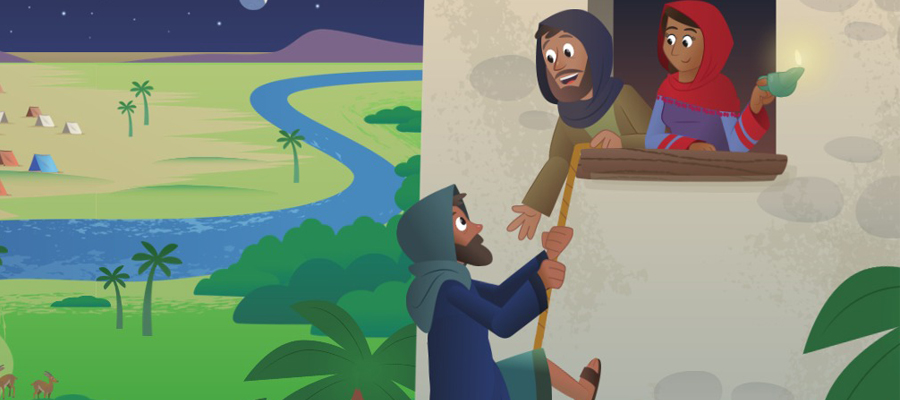 The Bible App for Kids simplifies Bible stories to help your little one understand and enjoy the Word. Today, we'll explore how this app can teach your child about being courageous through four different Bible stories:

1. Story: Waters Part and Walls Fall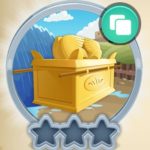 Theme: Entering The Promised Land
Scripture: Numbers 13-14; Joshua 2-3, 5-6
Your child can "tap into" this story to witness the last leg of the Israelites' journey to the Promised Land. In the course of reading Waters Part and Walls Falls, your child will discover hidden surprises and learn valuable lessons about courage. Let's take a closer look:
Your child will hear Joshua and Caleb say

"With God's help, we can do it!"

even though the 10 spies thought that the mission was impossible. This will show your child that

trusting God results in unshakable confidence

.
Determined to enter the Promised Land, Joshua obeyed God and marched around the wall of Jericho until it came tumbling down. This will inspire your child to remain

undeterred in difficult situations

, just as Joshua was. In fact, your kid can tap the screen to hear the Israelites blow trumpets and clang cymbals as they march forward.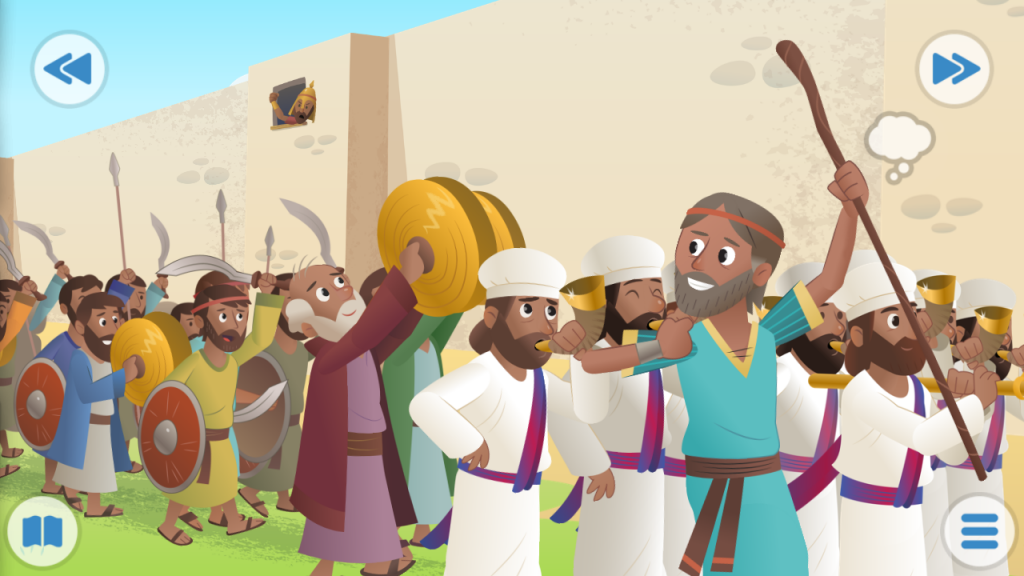 2. Story: The Brave and Beautiful Queen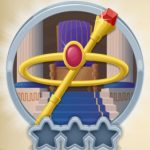 Theme: Esther
Scripture: Esther 2-5; 7; 9:20-22
This next story paints a compelling picture of how Queen Esther saved the Jews from being wiped out. Let's take a look at what lessons of bravery this story will teach your child:
The app's life-like animation will show your child that Esther was scared when Mordecai requested her to change the king's mind. This will help your child understand that the feeling of

fear is natural

.
However, the story unfolds to show that Esther did not let fear overwhelm her. In fact, she

"bravely agreed to try"

doing what seemed impossible! This will surely encourage your child to

choose the right path even when it seems difficult

.
This story also recreates the scene where Esther tells Xerxes about Haman's evil plan to execute all the Jews. The end result? Haman was hanged, and the Jews were saved. This will teach your child that

being brave bears good fruit

.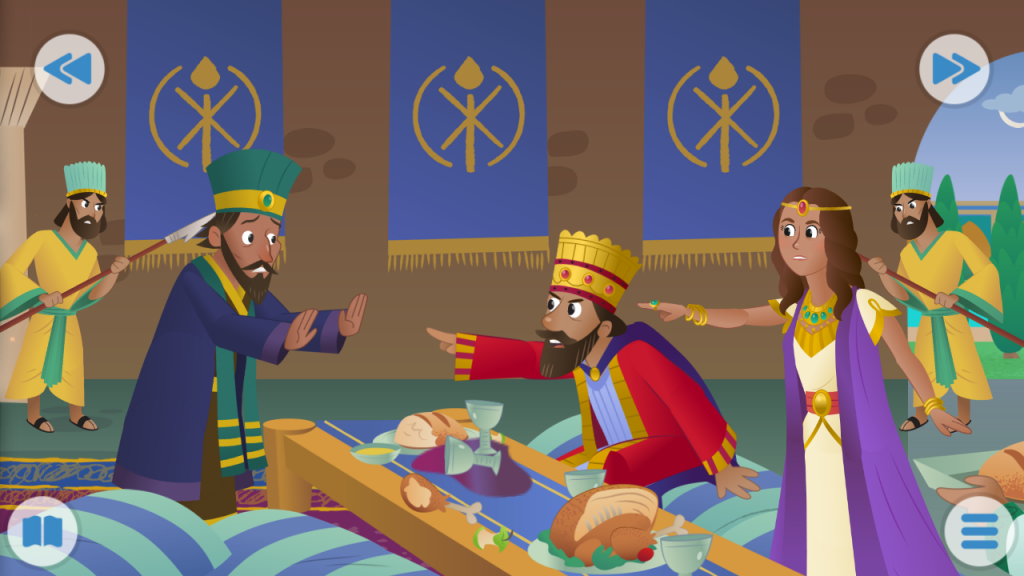 Finally, by seeing how Esther was strengthened to face Xerxes, your child will realise that

God will similarly strengthen

him or her to face tough situations.
3. Story: Fire From Heaven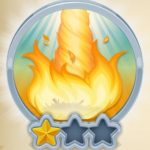 Theme: The Story of Elijah
Scripture: 1 Kings 16:29-17:1; 18:1, 17-39
In this story, your kid will meet another Bible hero who was not afraid to stand up for the truth – Elijah. Let's take a look at the how Fire From Heaven will help your child be fearless:
Your child can tap and watch Elijah accuse King Ahab of committing sins. This will surely inspire your child to

speak the truth boldly

, just as Elijah did.
In the course of this story, your child will witness Elijah pray to God without a shred of doubt. As a result, God sent fire from heaven to burn the wood, stones, water, and the bull, proving that He is the only true God! This will encourage your child to have

unwavering faith

.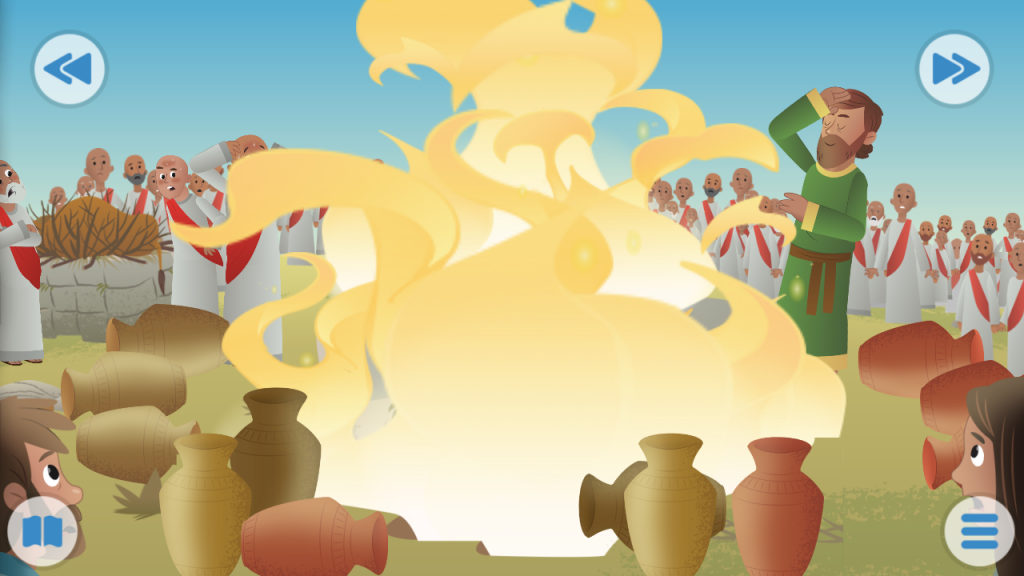 Moreover, this story is a powerful testimony of how God can use bold people to bring about a change. This will not inspire your little one to be a fearless follower of Christ, but also encourage him or her to

proclaim the truth with God-given confidence

.
4. Story: A Roaring Rescue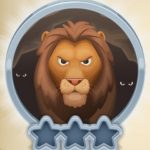 Theme: Daniel and the Lions' Den
Scripture: Daniel 1:1-4; 6
How can you teach your child to stay strong even when rebuked? This gripping story of Daniel in the Bible App for Kids will surely do the job! Take a look at what values your child will learn from A Roaring Rescue:
This story will show your little one that even when a law was passed to prevent Daniel from worshipping God, it could not stop him! This will teach your child to

stay faithful to God, no matter what

.
Your child can tap the screen and watch Daniel being thrown into the lions' den as a result of his defiance. This will help your child understand that

following God can be a difficult journey

.
The touch-activated animation in the app will allow your child to see how petrified Daniel was when he was thrown into the den. However, your child will also see that Daniel's fear was wiped away when an angel of God appeared and silenced the lions. This will teach him or her that our

God is much more powerful than our fears

.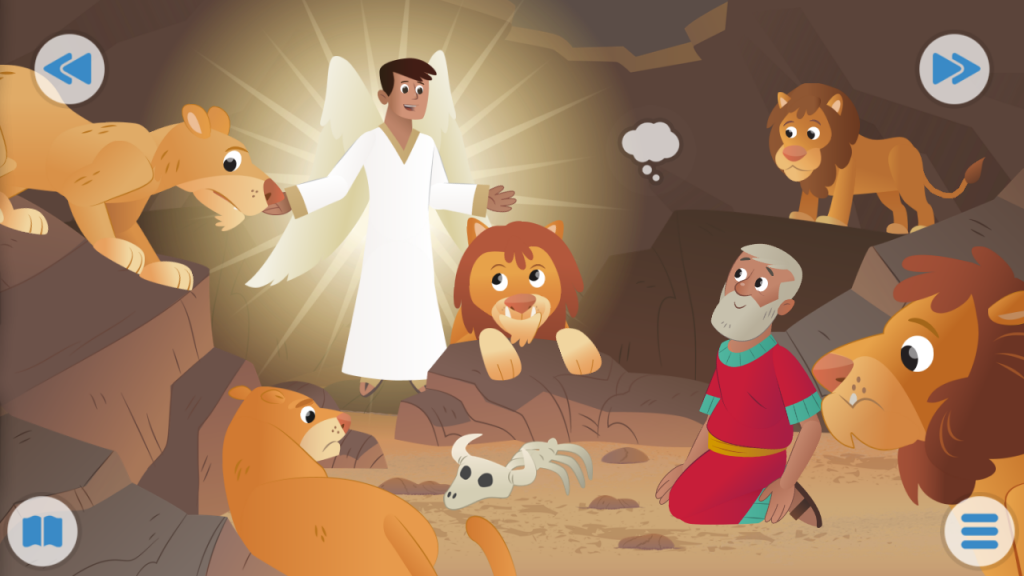 Most importantly, this story will teach your child that

trusting and honouring God is always the right thing to do

!
Do you want your child to be fearless like these biblical characters?
These are just four out of the many Bible stories in the app that will encourage your child to be courageous. The Bible App for Kids also recreates the story of David, Nehemiah, Paul and other Bible heroes who overcame their fears to do great things for God.
Download the Bible App for Kids today and give your child an opportunity to explore valuable life lessons in the Bible. Click the button below and get this FREE app now!