Parents, wouldn't Apostle Paul make a great role model for your children? He embraced God's calling, travelled across borders to proclaim the Gospel, built several churches, and used every trial as an opportunity to glorify God. So, why not let your kid walk alongside this Bible hero?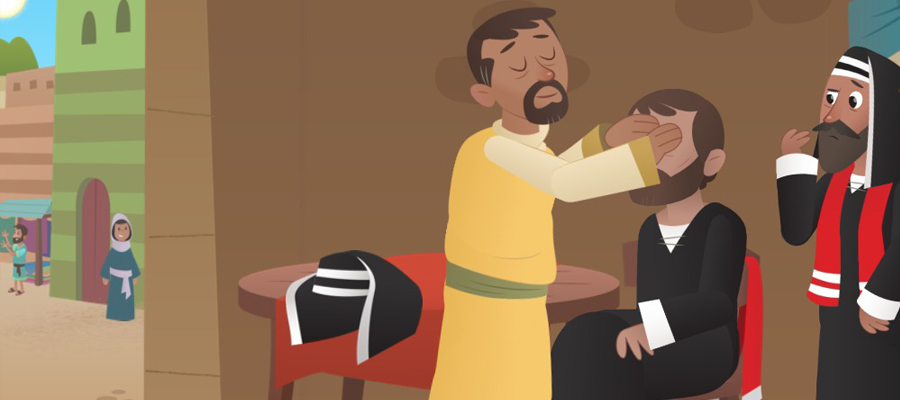 The Bible App for Kids offers two power-packed stories that will take your child on a journey with Apostle Paul. In the course of these stories, your child will witness Paul's transformation from Saul, travel with him across countries, and learn a great deal about faith.
Let's take a closer look at how this app teaches your child valuable lessons from Paul's life – through the stories From Enemy to Friend and Journeys for Jesus:
1. Story: From Enemy to Friend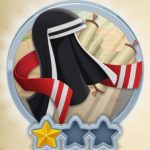 Theme: Paul meets Jesus
Scripture: Acts 9:1-19
This first story will give your child a glimpse of Paul's ungodly beginnings and his amazing transformation. Let's take a look at what the story From Enemy to a Friend has in store for your little one:
Your child will witness God encounter Saul and hear Him say

"I am Jesus, the one you want to harm."

This will help your child understand that

God shares the pain of His people

.

Moreover, the animated voices for Jesus and Saul will make reading this story an enjoyable experience for your child.
This story will further show your child how God instructed Saul to go to Damascus to discover his true purpose. The surprising part? Saul obeyed the very God he despised! This will show your child that ours is an

awe-inspiring God

.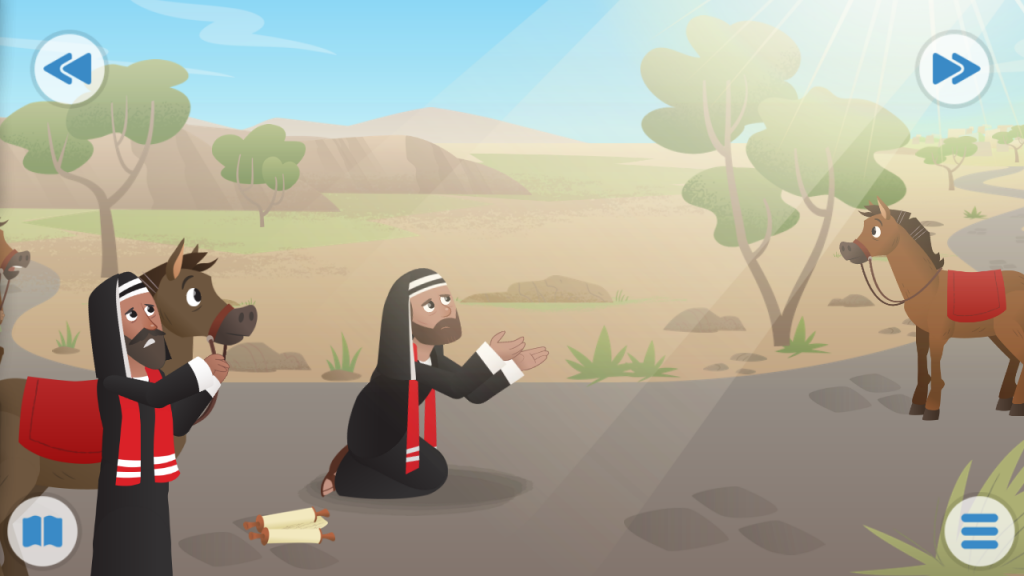 As the story continues, your child will not only see Ananias' vision spring to life, but also learn that God had big plans for Saul. This will help your little one understand that

God often orchestrates the events in our lives to reveal His grand plans.
What's more, your child can tap and watch Saul being healed from blindness. This will help him or her realise that

our God is a healer

. That's not all, your child will also learn that

Jesus can forgive even the worst sinner

.
Your kid will observe how God transformed Paul from a persecutor to a church leader! This will surely impact your little one as he or she will understand that

God can use the most unexpected people

for his work.
2. Story: Journeys for Jesus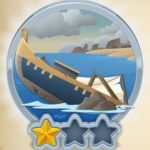 Theme: Paul's journey and trials
Scripture: Acts 13-14; 16; 20-21; 25; 27-28
This next story will allow your child to travel with Paul, right from Greece to Rome. Let's take a look at what lessons these journeys will teach your child:
Your child will see how Paul follows God's calling and travels to Syria, Turkey, and Greece to preach the gospel. This will

encourage your child to be obedient

, just as Paul was. Moreover, the touch-activated animation will allow your child to travel with Paul and watch him preach in these places.
Your little one will also observe Paul get attacked by the people of Jerusalem, unfairly arrested by soldiers, and put on a ship bound for Rome. This will show your child that being

faithful to God can be a difficult journey

.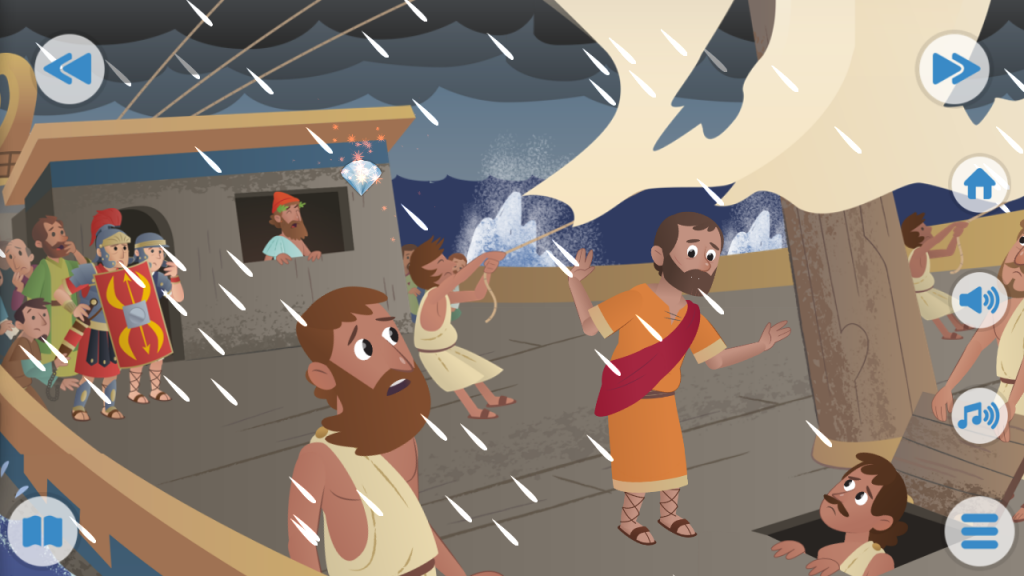 As the story progresses, your kid will see that Paul's ship is caught in a bad storm. In fact, he or she will see lightning strike and hear the roaring of the sea, too! However, as promised, God brings Paul and the crew safely to shore. This will show your child that

God is always in control

.
This story will soon take your little one to Malta. In this section of the story, your child will witness Paul pray over the ruler of Malta, and watch him get healed. This will encourage your child to follow Paul's footsteps and pray for other people. Moreover, your kid will see how

God can use different situations to bring glory to His name

.
Finally, your child will be inspired when he sees

Paul turn yet another painful experience into an opportunity to serve God.

Your child will watch Paul use his time in prison to write the very letters that we read in our Bibles today! Plus, the interactive characters and elements in this scene will leave a pleasant memory of the story despite the sad state of affairs.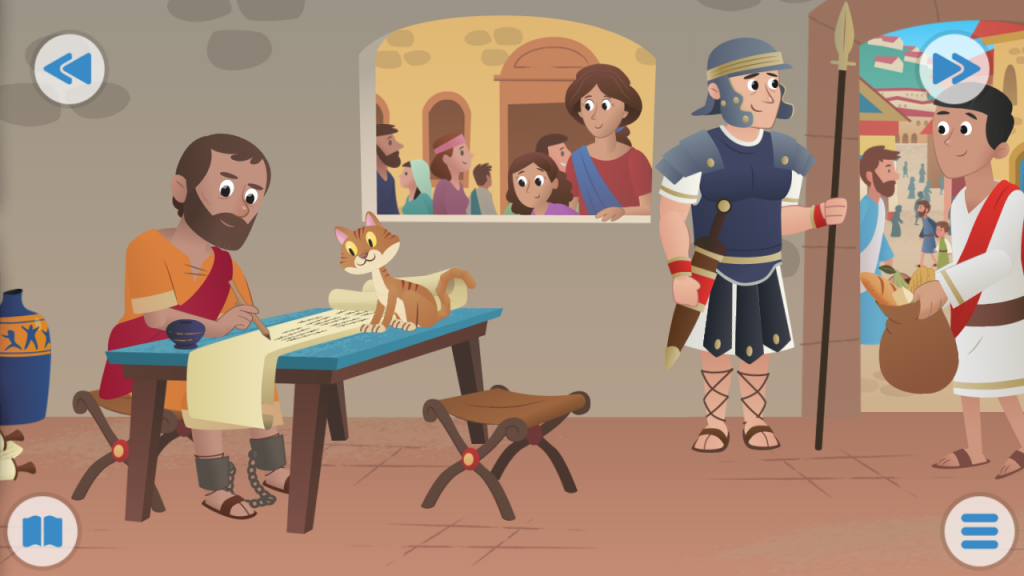 These two stories will take your child across five different countries in just a matter of minutes! The best part? Your child will get to walk alongside Paul and learn a great deal from his devotion to Jesus. Why not download the app and let your child experience these journeys himself or herself?
In fact, the Bible App for Kids allows your child to journey with many other Bible heroes including Abraham, Moses, David, and Esther. Download this app and give your child an opportunity to learn from these biblical characters.
Click the button below and get the Bible App for Kids right away!