"Train up a child in the way he should go; even when he is old he will not depart from it." – Proverbs 22:6
The Bible is full of precious lessons and values that will guide your child all through his or her life. The big question is: how can you introduce your child to key biblical concepts in a way that is both engaging and impactful? Well, the Bible App for Kids might just be the tool for the job!
Designed for kids aged 2-8 years, the Bible App for Kids takes children on a delight-filled biblical adventure. This app will introduce your kid to over 40 interactive stories from the Bible, while helping him or her grasp key biblical concepts.
Today, we will explore how this app will teach your child about two biblical principles that will guide your son or daughter for life: the Fruit of the Spirit and the Armour of God.
How your child will explore these biblical principles:
As your child goes through the different stories in the app, he or she will be prompted to collect gems that unlock different biblical elements. The more gems your child collects, the closer he or she will get towards completing these four sets: Fruit of the Spirit (Galatians 5: 22-23); Armour of God (Ephesians 6: 10-17); Temple Treasures (artefacts from Solomon's Temple); and Life of David (key events from David's life).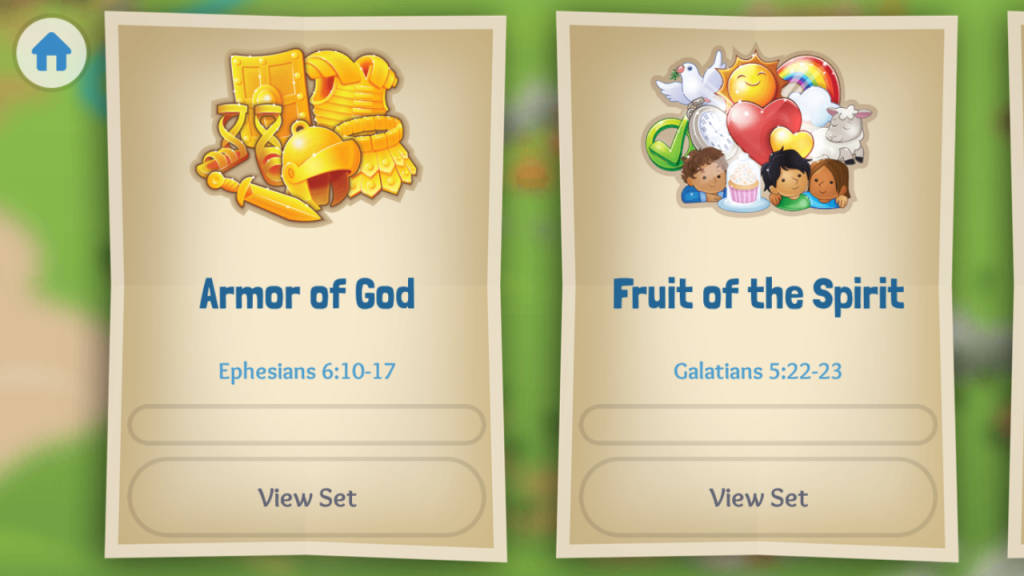 If your child loves challenges, he or she will certainly enjoy collecting these items! Your kid can keep a tab on his or her collectibles from the app's home page. That's not all, a tap on the gem at the bottom left of the app's home page screen will open up a brief and simple introduction about these different concepts.
How your kid will learn to battle with the Armour of God:
Learning about the Armour of God is a fun activity for most kids. With its interactive elements and visual effects, the Bible App for Kids makes a lesson about God's armour even more engaging! As your child collects the different parts of this armour from the various stories, he or she will quickly learn about its different components.
A tap on the screen will further teach your child about this special armour that he or she should learn to put on. For example, your child will learn that the Armour of God will protect and equip him or her to fight against sin and evil, every day!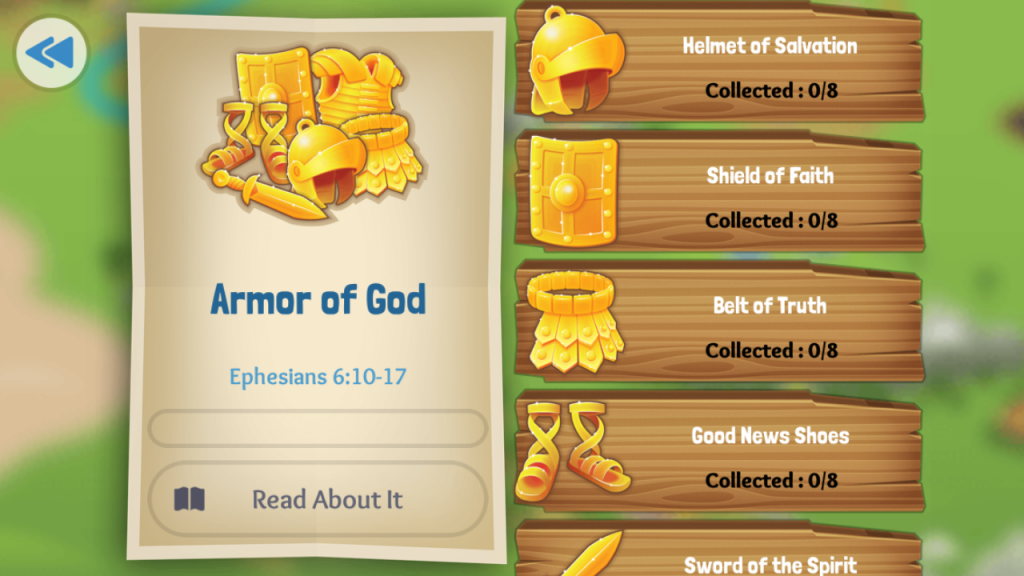 Further, your kid will learn to put on God's helmet by making Jesus his or her lord and saviour. In addition, your son or daughter will learn that the belt of God's truth, the shoes of His peace, the chest plate of right living, and the shield of faith will keep him or her safe. Your little one will also be encouraged to read the Bible so that he or she can use Bible verses as a sword to fight the good fight!
What your child will learn about the Fruit of the Spirit:
The app uses bright and easy-to-remember imagery to help your child memorise the nine spiritual fruits. For example, a dove represents peace, a clock represents patience, and a child looking intently at a muffin represents self-control.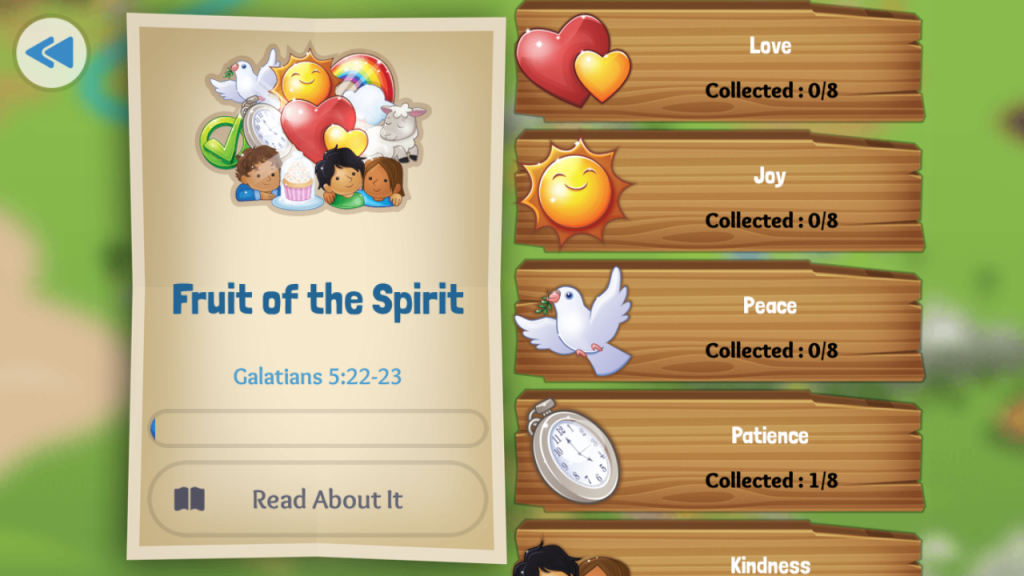 Your child will learn that when we believe and obey Jesus, the Holy Spirit comes to live inside us and helps us grow these special fruits. That's not all, your son or daughter will learn that these fruits grow in our hearts and help us live and act like Jesus. Finally, the app will help your little one realise that all these attributes are evidence of a life that belongs to Jesus.
Parents, remember to encourage your child to repeat and memorise the different fruit that he or she will learn about. In fact, you can also help your kid put together a fruit basket with nine assorted fruit – one for each spiritual fruit – to help him or her really soak in the lesson.
The Bible App for Kids not only makes Bible stories come alive for children, but also simplifies complex biblical concepts. This app will help explain concepts such as the Holy Trinity through its interactive New Testament stories, God's faithfulness through Exodus-related stories, and lots more!
There is an entire world of biblical gems awaiting your kid in the Bible App for Kids. So, download this app and help your child uncover these valuable biblical treasures.
Click the button below and get the Bible App for Kids right away!