Parents, you can now help your children grasp the true meaning of Easter with the Bible App for Kids. Yes, that's right! This app will help your little one realise that Easter is a lot more than hot cross buns, chocolate eggs, and bunnies!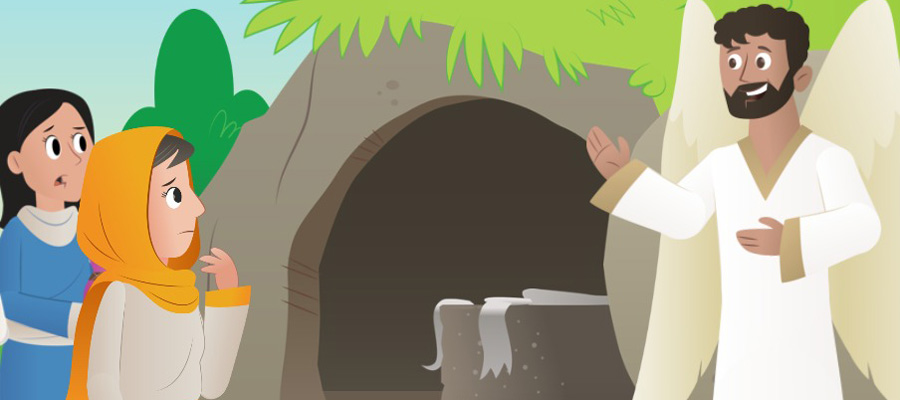 With its interactive elements, lively narration, and simple content, the Bible App for Kids makes the Easter story come alive for children. Today, we'll look at how this app will take your son or daughter back to the very first Easter Sunday, and help him or her unearth important biblical concepts:
Story: A Happy Sunday

Theme: The empty tomb
Scripture: Mark 16:1-4; Matthew 28:5-8; John 20:3-10; Luke 24:1-12, 36-49
A Happy Sunday will offer your child life-changing insights about Jesus. Here are the top lessons that this story has in store for your little one:  
Perhaps the most important lesson your child will learn is that

Jesus rose from the dead and defeated sin and death

. You can further explain to your child that Jesus' death and resurrection also mean that we can overcome sin and death as Jesus did. This will teach your child that if he or she trusts in Jesus, then there is nothing to be afraid of – not even death!
The interactive features in this story will help your child understand that

Jesus' resurrection was no ordinary event

. Your kid will see that the women were confused when they saw angels guarding the tomb. In fact, your kid can touch the screen and watch the terrified disciples drop whatever they're holding when Jesus appears! This will help your little one realise that ours is a God of big miracles.
Your child will observe that

Jesus' resurrection was a fulfillment of the prophecies made centuries ago

as he or she watches Jesus teach His disciples from the Word. For example, your son or daughter will hear Jesus tell the disciples how the scriptures spoke about a Messiah who would suffer, die, and then be raised from the dead. This will help your kid realise that there is great wisdom in the Word, as well as encourage him or her to read the Bible.
Your little one will also be encouraged to

share the gospel with others

when he or she hears Jesus instruct His disciples to share the good news with the world. Your child will learn the most important tenet of the gospel: people's sins can be forgiven if they turn to God, because of what Jesus has done for us.
A Happy Sunday will give your child insight about the biggest miracle in history! So, why not download the Bible App for Kids today and send your child back in time to the first Easter?
Click the button below and get this free app today!