The Sermon on the Mount is a well-known and often-quoted passage from the Bible. After all, this is where Jesus taught us how to live as people of His Kingdom.
The Bible App for Kids simplifies this key Bible passage for children in a captivating and impactful way in the story, The King and the Kingdom. Let's look at how this story will help your child learn to lead a life that pleases God:
Story: The King and the Kingdom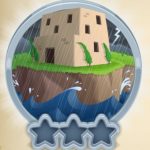 Theme: The Sermon on the Mount
Scripture: Matthew 4:23-7:29; John 18:36-37
The Bible App for Kids uses top-notch animation and sound effects to help children grasp the key concepts from the Sermon on the Mount. Here are the key lessons that your child will learn from this story:
In the beginning of this story, your kid will hear Jesus say that our actions reflect what is in our hearts. More importantly, your son or daughter will realise that

God wants to make his or her heart good like His own heart

.
Your child will understand that worrying about things like food and clothes is futile. Moreover, he or she will learn that

God knows and provides for all our needs

. This will encourage your little one to trust God.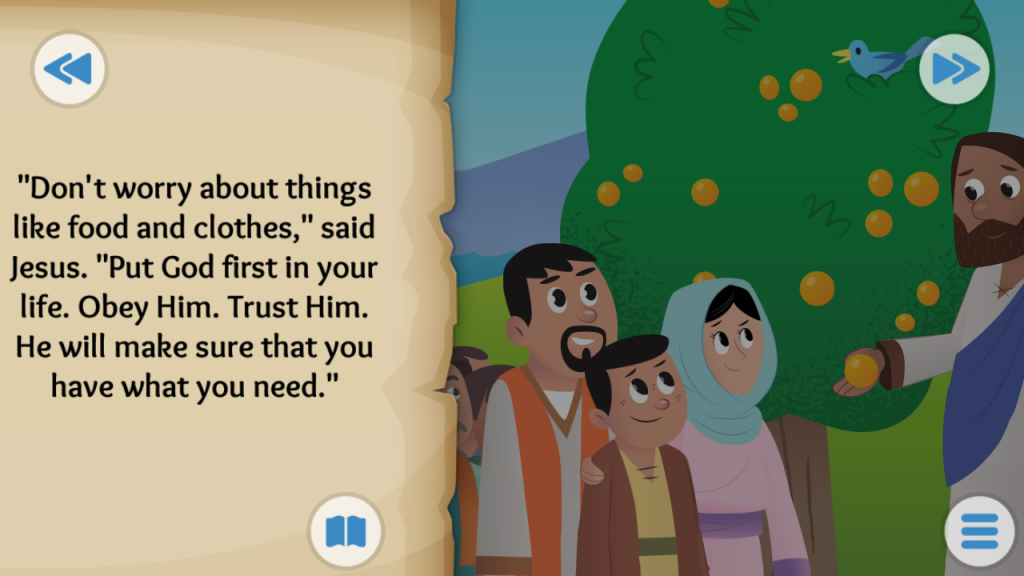 Your child will

learn how to pray

as he or she hears Jesus teach the crowd the Lord's Prayer.

In fact,

this app has even simplified this powerful prayer to make it easy-to-understand for kids aged 2-8 years.
As the story progresses, your child will hear the parable of the men who built their houses on the rock and sand respectively. With a tap on the screen, your child can watch the house on the sand collapse in the storm, while the house on the rock remains unharmed. This interactive experience will help your kid realise that

obeying God's word is like building a house on solid ground

.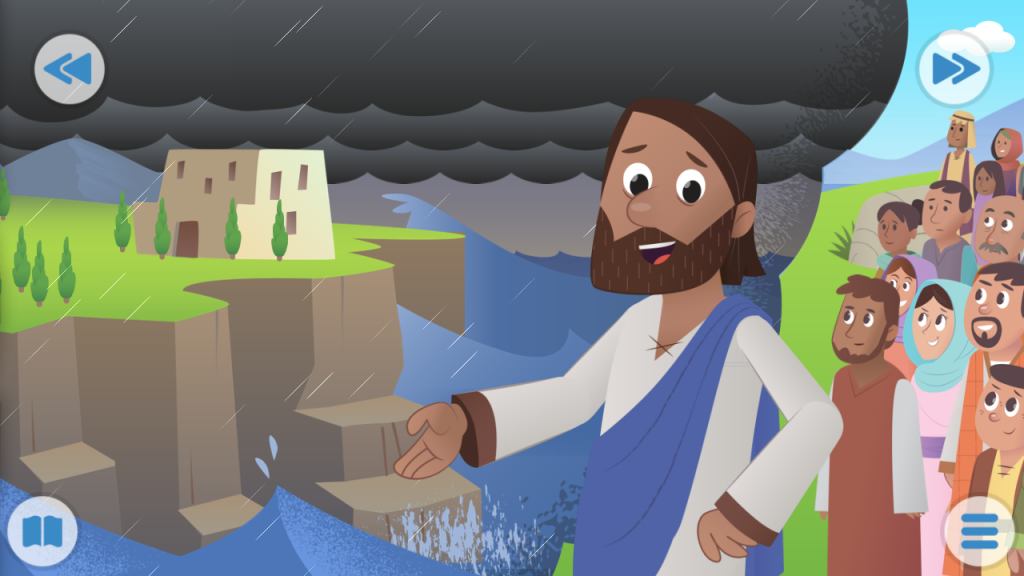 These were some of the valuable lessons that your child will learn from this story. To help your child really soak in these lessons, ask him or her these questions after the story:
What did Jesus say God wants to do with your heart?

Jesus said that God knows our needs even before we ask. What does this say about God and how He feels about you?

How should you pray?

How can you be like the wise man who built his house on a rock?

Jesus told us to put His words into action. What is one way in which you can put Jesus' words into action?
Also parents, here's an easy memory verse for your kids:
"Anyone who listens to my teaching and follows it is wise, like a person who builds a house on solid rock." – Matthew 7:24 (NLT)
That's not all! The Bible App for Kids has over 40 stories loaded with valuable lessons, interactive features, and games to help your child explore the Bible in a brand new way. In fact, the app's website has resources for parents with questions, activities, and videos that you can go through with your child.
All you need to do is click the button below and get the Bible App for Kids today!